Blog
Plant a Seed this March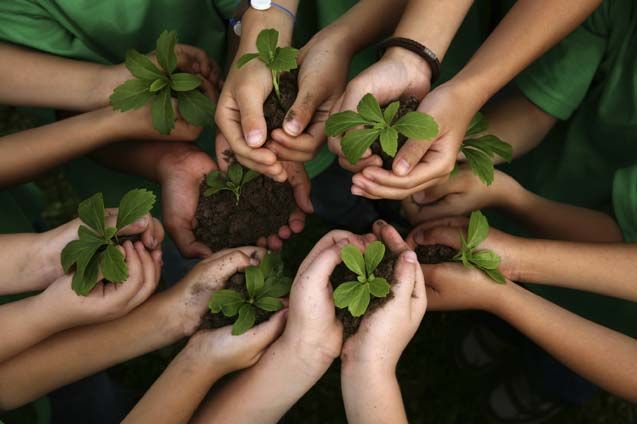 Have you ever planted a seed and watched it grow? Did you know that seeds come in many shapes, textures and colors? Seeds can be flat or raised, round or oval. Some seeds are fuzzy, while some seeds are wrinkled or smooth. They may be brown, red, green, yellow, or even multiple colors, too. But what they all have in common is that seeds contain baby plants that you and your family can enjoy planting in nature near you. Here is a list of a few events across Texas where you can learn about plants and maybe even get your hands dirty.
Austin: PEAS and Slow Food Austin Seedling Social, March 30. The Seedling Social garden party is for adults and kids alike. Join for food, fun, music, kids' activities and gardening information. They'll have seedlings for you to take home and grow in your own garden and raffle prizes. Time: 11am-2pm. $5 admission for adults, kids are FREE.
Caprock: Second Saturday Gardening Program, March 9. Join the Lubbock Memorial Arboretum on the second Saturday of the month for an educational forum on Preparing Your Spring Landscape. This Series is free to all visitors and community members. Learn about water conservation, how to choose plants & trees for your gardens, and share tips with others! Time: Begins at 9:30am. Cost is FREE.
Coastal Bend: The Learning Garden Open Hours at Tom Graham Park, Sundays in March. The Learning Garden is GROW Local South Texas' community teaching garden, where everyone can learn to plant, GROW and harvest fresh produce. Open hours are FREE, open to all ages. Get a garden tour, see what is in season, ask questions, and get your hands dirty. Please wear closed-toed shoes. Time: Sun. 4-6pm.
Dallas/Fort Worth: Seedlings, March 13. Join the Botanical Research Institute of Texas for its Seedlings education program the second Wednesday of the month. Children ages 4-6 and their families explore natural wonders in the Backyard Vegetable Garden. Time: 10:30-11:30 a.m. Cost is FREE.
Houston: Strawberry Patch Kids, March 30. Help Mercer Botanic Gardens plant a new strawberry patch this spring! Get a face paint and check out strawberry-themed books. Strawberry lemonade will be provided. To reserve a strawberry plant for planting, call 713-274-4160. Planting is scheduled in two one-hour time blocks: 9 a.m. or 10 a.m. Limit one strawberry plant per child.
Pineywoods: Tyler Azalea & Spring Flower Trail, beginning March 22. Visit Tyler for this 60th Annual spring event, featuring mile after mile of blooming azaleas, dogwoods, and spring flowers. Stroll the beautiful gardens and join one of the many community events. This event is for the whole family. Admission varies by event.
Rio Grande Valley: Volunteers in the Park, Tuesdays and Thursdays in March. Join staff naturalists every Tuesday and Thursday from 8:30-10:30 am to help with grounds projects including watering, weeding, raking and pruning trails! All ages welcome (ages 15 and under with a parent or guardian only). This is a drop-in, FREE program. Please wear closed-toe shoes.
San Antonio: Children's Vegetable Garden Program at the San Antonio Botanical Garden, March 2. Children will have fun growing different types of seeds, vegetables, and ornamental annual flowers. Participants are allowed two absences. A parent or guardian must stay with their child. Must register for Spring 2019 Session. Time: Saturday mornings, March 2 - June 15th from 9am-12pm. Fee: $40/child or $60 for two children to share a plot. Ages: 7-16.
Find more places to explore in nature near you at www.naturerockstexas.org